We're Getting Mutants in the MCU - The Loop
Play Sound
Tinker Bell's Adventure is a single player game for PC available in different stores like Steam.
"Play as Tinker Bell, Iridessa, Silvermist, Fawn and Rosetta as you take on this exciting adventure. Fans will be able to enter a world inhabited by these magical characters and discover the secrets of Pixie Hollow."[1]
More Technical Information
Voice and Subtitle refer to the opening video solely. The game itself has no voice for the characters, only instrumental music and sound effects.[1]
| | | | |
| --- | --- | --- | --- |
| Language: | Interface | Voice | Subtitle |
| Czech | ✔ | | ✔ |
| English | ✔ | ✔ | |
| French | ✔ | ✔ | |
| Germany | ✔ | | ✔ |
| Italian | ✔ | ✔ | |
| Polish | ✔ | | ✔ |
| Russian | ✔ | | ✔ |
| Spanish (Spain) | ✔ | ✔ | |
System Requirement:[1]
Operating System: Microsoft Windows Vista SP2 / XP SP3 / Windows 7
Processor: 2000 MHz
Memory: 1 GB RAM
Graphics Card: 128MB Nvidia GeForce 6600 / ATI Radeon X1300 Video Card
DirectX: Version 9.0c
Disk Space: Requires 512 MB free space
Sound Card: DirectX 9.0c Compatible Sound Card
Home Page
The game begins with an opening video similar to Tinker Bell (film)'s ending, minus spoilers. Afterwards, it opens the home page with the options:
Printing Images (available after Story Mode)
Free Play (available after Story Mode)
Extras (opening video and credits)
Options (music and screen details) and Exit
Mentions/Appearances
Characters
Playable: Tinker Bell, Iridessa, Rosetta, Silvermist and Fawn.
Others: Queen Clarion, Vidia, Terence, Fairy Mary, Luminaria, Chipper, Rose, Cera, Icy, Idalia, Tetra, Delis, Baden, Ministers of Spring, Summer, Autumn and Winter;
Animals: Augustus (bird)
Fauna (all unnamed): Lady Bug (red), Dove (white-beige), Dove (light-blue), Frog (green), Snail, and Mr. Squirrel.
Places
Map/Above view: Pixie Hollow Vista (Pixie Dust Tree and its surroundings)
The "main land" is mentioned but not accessible in game.
Items
Intractable: Cakes (edible - gives printing images), Hair Accessories (wearable - gives printing images), Fairy Medicine;
Collectibles: Honey, Fruits, Flowers, Gems, Seeds;
Others: Tinker Bell's hammer, tea pot, Iridessa's light container;
Mysterious Items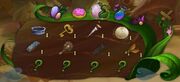 The eight Mysterious Items are solely to give printing images, not being used in the stories. The player can collect them more than once, however this does not inflict in-game.
Tip: change fairies and place to see the item
| Image | Name | Location |
| --- | --- | --- |
| | Bowl | Springtime Square (screen bottom, left side) |
| | Coin | Toadstool Hatches |
| | Harmonica | Harvest Promenade |
| | Key | Autumn Forest |
| | Mirror | Beach Cove |
| | Nail | Inside Tinker Bell's home |
| | Spring | Inside Tinker Bell's home (left side) |
| | Scissor | Inside Tinker Bell's home (right side) |
Story Mode
Overview
The story happens before the second movie, in two years and six months at total, counting from the change of seasons informed at the end of each episode.
There are five fairies available to play and following the game guide, the player can move its respective fairy all around Pixie Hollow interacting with other characters and objects, proceeding in the story. After completing the game, the player can opt to continue the Story Mode or go back to it later.
Important note: To save the game the player must complete an episode/part or exit via the menu (press "esc") to the home page before closing the game. If not proceeded, all data not saved is lost.
Walkthrough
Part 1: The Minister of Spring asks Tinker Bell to fix a tea pot (in "Work Shop" mini-game), that will be used to carry dew drops to the main land.
Part 2: The Minister of Summer asks Iridessa to help fireflies that could not get the "Last Light of Day" to bring summer to the main land. Iridessa answers that capturing light is her specialty. In Sunflower Meadow, Vidia asks for 3 yellow feathers in order to give it back Iredessa's light container. As it was torn, Iridessa asks Tinker Bell to fix it (in "Work Shop" mini-game). Iridessa then helps the fireflies (in "Light the Fireflies!" mini-game).
Part 3: The Minister of Autumn asks Rosetta to collect 3 violets and 5 yellow seeds to bring flowers to the main land. The minister then tells her that Terence spilled pixie dust accidentally on the seeds and they started floating, he asks her help to plant them (in "Planting!" mini-game), and tells her about the Harvest Party. Rosetta then proceeds to ask Tinker Bell to do a "red summer hair clip," gets the missing piece (a ruby) with Iridessa, and goes back to Tink so she can craft the hair clip (in "Work Shop" mini-game).
Part 4: Silvermist could not fly without her bag of pixie dust that was being held by a frog. Fawn talked with the frog and found out that he was sitting on top of it because his leg was hurt and he could not move. After Fawn healed him with green grass, Silvermist went to see the Minister of Winter. The minister says Silvermist is the best dew drops maker, and asks her help as they are out of dew drops to carry for the main land (in "Collect Dew Drops!" mini game). The minister then request Fawn to go settle down little bees for the long winter's nap (in "Assign Honeycomb" mini-game).
Part 5: Tinker Bell was sick so Rosetta went to see Idalia. A lot of other fairies had a flu as well so Idalia was out of supply and asked Rosetta to fetch her 3 green grass, 1 red grass, 3 green drew drops and 1 raspberry for the medicine. Silvermist gave her the dew drops, Rosetta found the raspberry (in "Collect Fruits" mini-game), and the grass in Autumn Forest. After Tinker Bell gets better with the medicine, the Minister of Spring asks her to fix another item, a basket (in "Work Shop" mini-game).
Part 6: It was going to be the celebration of Silvestmist's Arrival Day and Iridessa wanted to give her a present. Silvermist told Iridessa before how she wanted a White Agate hair clip. The White Agate was Silvermist favorite jewel, very rare and only found in the Mysterious Cave (in "Collect Jewels" mini-game), in a hidden entrance in Toadstool Hatches. Iridessa mistook the Snow Quartz for the White Agate, yet Tink said she still could make the hair clip with it (in "Work Shop" mini-game). Iridessa explained what happened and gave the hair clip to Silvermist that thanked her and said she has now a new favorite jewel, the Snow Quartz.
Part 7: An egg that Fawn had found and was taking care disappeared. Searching for it, she sees a yellow bird and talking with him she discovers he is the egg that had hatched. As it was the end of the summer she name the baby bird as Augustus. Fawn presented the bird to Idalia, Minister of Autumn, then to Rosetta, but he made a mess with her roses, then she took the bird to Springtime Square to the minister of Spring. As the bird was hungry she went to Lookout Towers to get seeds but when she got back the bird had already flown to the Toadstool Hatches. Augustus told her he was playing hide and seek with her, which made Fawn get mad at him. Fawn and Augustus make up. The Minister of Autumn asks Fawn and Augustus help to take fruits and flowers to the main land, and enlist Augustus as part of the team.
From here forward the game guide would not tell were each item was.
Part 8: Vidia said the cake she ate was the grossest and that the new cook was the worst. The new cook, Delis got sad hearing this, and mentioned how he tried but he never had the right ingredients. Rosetta mentioned she is a sweet tooth and offers to help getting the ingredients to him. She would need to collect 10 red seeds, 3 strawberry (in "Collect Fruits" mini-game), 1 bottle of honey (in "Assign Honeycomb" mini-game), 1 red rose for the Strawberry Dream Cake. Delis then makes the cake and Rosetta congratulates him on it.
Part 9: To prepare for winter in main land, the Minister of Winter asks Fawn help to get animals to hibernate. Fawn then mentions she even tried singing lullabies to them. The minister then suggest getting help from the new fairy Idalia. Fawn then goes talk with her, but Idalia is out of material for her Sleepy-time Perfume, so she asks Fawn to fetch 5 Blue Dew Drops, 5 Red Dew Drops (go to Silvermist), 3 pieces of yellow grass, and 1 piece of blue grass. The perfume works and the animals go into hibernation.
Part 10: Fairy Mary asks Tinker Bell to fix many tea pots, but Tink lost her hammer. Tink mentions that last time she had it was when she went with Fawn to look for lost things in the Toadstool Hatches. Fawn asks a Dove nearby and follows it into Mr. Squirrel's home. Tink receives her hammer and fix the pot delivering to the Minister of Spring. He then says they can now being drew drops to the main land for spring.
Part 11: Tetra asks Fawn help to feed 3 doves, one at Harvest Promenade, one at Springtime Square and another at Sour Plum Tree. After feeding the first 2, Fawn sees no dove at Sour Plum Tree and asks Vidia if she saw any. Vidia answers that she saw one heading for Beach Cove. Getting there, Fawn realizes that Vidia tricked her, but out of pixie dust she get stuck in the beach. Augustus then appears and says that he have been searching for Fawn all over the place. Fawn plays saying he came just in time to rescue the damsel in distress (herself).
Part 12: Icy, the snowflake fairy, wanted to thank Rosetta for bringing her the Strawberry Cake. Rosetta answer that Delis should be the one thanked as he was the one that baked it. Icy then asks Rosetta to deliver for her blue seeds as she hear they are great in cakes. Rosetta mentions he is always searching for new ingredients. (If clicking on Baden, he says he did like to try Delis new recipe.) Rosetta gives Delis the blue seeds and tells him that Icy is a huge fan of his cooking. Delis confess he is working on a new recipe called Blueberry Surprise Cake, that takes blue seeds, but he is still missing the ingredients: 3 blueberries (in "Collect Fruits" mini-game), 1 piece of blue grass and 1 blue lily. She delivers it and Delis makes the cake.
Part 13: Silvermist (and Luminaria if clicking) is worried about Iridessa that was sneezing and dizzy, a bad case of Hay Fever. Idalia says that she has a recipe for it, but she has not tried it yet. Silvermist gets the ingredients for her: 3 piece of orange grass, 1 piece of black grass, 1 piece of lavender and 5 yellow dew drops. Iridessa drinks the Hay Fever medicine and gets better. Silvermist then says Idalia is the best medicine maker in Pixie Hollow.
Part 14: Chipper says she found the design for a white lily hair clip and gives to Tinker Bell. It would need 1 green feather, 2 emeralds (in "Collect Jewels" mini-game), 1 blue daisy, and 1 white lily to build it. Tink shows it to Chipper that gives to Tink a book with more designs for her to craft, and leaves the hair clip with Tink too.
Part 15: Delis tells Silvermist he has been working in a bunch of new desserts recipe but now he got a terrible toothache. Idalia says his cook is the best but too many sweets can cause cavities, and check her book for toothache medicine. Silvermist get required items: 3 pieces of white grass, 1 piece of green grass, 2 pieces of green ginger, and 5 purple dew drops. Delis says he would thank her with two giant cakes but, reminded of his toothache case by Sil, he says he will send a thank you card to Idalia instead.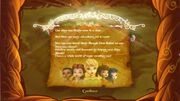 The story ends here.
Printing Images
At total the game has 49 printing images, being: 8 coloring papers and 41 cards.
Ways to attain:
Completing an episode/part;
Picking "Mysterious Items" from the floor;
Eating cakes in Story Mode;
Playing Free Mode. Tip: generally difficulties 5 and 10 had it;
Free Mode
After playing each mini-game once inside the Story Mode, it becomes available in Free Play. Each game have difficulties from 1 to 10.
Mini-games available:
Fireflies (in Story Mode: "Light the Fireflies")
Collect Fruits
Collect Drew Drops
Create Accessories (in Story Mode: "Work Shop")
Assign Honeycomb
Planting
Fix Items (in Story Mode: "Work Shop")
Collect Jewels
Game Credits
Game Credits
"Developed by Gamestar



Director, Product Development: Qi Zeyu;
Technical Director: Shu Chian Cheah;
Producer: Cai Yiqiao;
Associate Producer: Peng Lu;
Game Designer: Zhao Yilai;
Lead Artist: Dong Iiang, Huang Cheng;
Artist: Chang Peng, San Yujie, Xue Ranbin;
Sound Designer: Shen Zhipeng, Ying Hong;
Senior Programmer: Zhu Ming;
Programmer: Wang Dongdi, Li Jianfeng, Liu Huanmin;
Associate Programmer: Zhang Xiaosu, Ren Shaoxing, Xia Bin, Yu Yang;
QA Leader: Sun Yin;
QA Testers: Ying Jan, Chen Siyuan, Wang Yao, Yao Chenkai, Yang hao, Tian Wei, Wang Cheng, Xu Haifei, Li Hongyan.

Published by Disney Interactive Studios
Production: Executive Producer Stanley Chow;
Producer: Irwin Chen; Game Design Alex Cullum;
Technology Director: William Chen;
Art Director: James Brace.

DIS UK
Localization Producer: Alison Lau;
Senior Localization Manager: Sonia Souto;
Director, Production Operations: Flavia Timiani;
QA Lead: Gerald Bampoe;
QA Manager: David Pettit;
QA Testers: Kasim Rehman, David Shenoda, David Haddon, Jamie Joseph, Ariun Pandey, Amy Bamber, James Handford, David Handford;
QA Testers - Localisation: Joe Hellmann, Beatriz Gonzalez, Zepyur Batikyan, Stella Gigli.

European Marketing
Marketing Manager: Yolange Vandenbulcke;
Junior Product Manager: Hayley Reeves;
Associate PR Manager: Melissa Herman;
Manager, Online Marketing: Jen Tedstone;
Online PR Assistant Manager: Banu Sen Pekiner;
Manager, Creative Services: Andrew Cockell;
Creative Services Assistant Manager: Gemma Eadie;
Creative Services Assistant: Vivian Yip;
Special Thanks: Robert Watson, Jonathan Backer.

DIS Glendale QA
Quality Assurance Certification Leads: Marta Saylors, Angelo Federizo;
Quality Assurance Testers: Sean Hueber, Stephen Schillinger;
Quality Assurance Certification Supervisor: Jason Furler;
Quality Assurance Supervisors: Luigi Pardo, Tharlie Richardson;
Quality Assurance Manager: Ken Eaton;
Director of Quality Assurance: Gary Stevens;
Project Supervisor Quality Assurance: Doug Quackenbush;
Technical Operations Coordinator: Mario Donis.

Special Thanks
Disney Toon Studios: Michael Simms, Curtis Hamlett, David Siegel, Stephanie Martinelli, Gloria Fonseca, Holly Browde, Sharon Edelson, Saaren Ghazi, Blair R. McLaughlin, Amir Hematyar, Debbie Shields, Global Steps LLC.

Music: Composed by Mark Watters.
Uses Bink Video. Copyright (C) 1997-2008 by RAD Games Tools, Inc. Dolby, Pro Logic, and the double-D symbol are trademarks of Dolby Laboratories. Portions of this software included under licence ©2009 Scaleform Corporation. All rights reserved. FMODEx Sound System © Firelight Technologies Pty, Ltd., 1994-2009. Disney Fairies Tinkerbell's Adverture Published by Disney Interactive Studios © 2010 Disney."
Trivia
The game sometimes spells mainland as either "main land" or "mainland."
Despite Queen Clarion and Terence being present in-game and being clickable/interactive characters, they had no part in the story episodes/parts. Terence was mentioned only once by the Minister of Autumn.
Baden can also be seen in the background in Lookout Towers, but he was not clickable/interactive.
The credits contained icons from previous games.
Despite being published in 2014, it states the game's copyright being from 2010 in the credits.
Gallery
Reference