The Tearoom was first mentioned in Fairy Dust and the Quest for the Egg. Similar to a cafeteria or cafe, it is where the fairies and sparrow men of the Hollow have their meals.
Appearance
(From oldest to newest.)
Books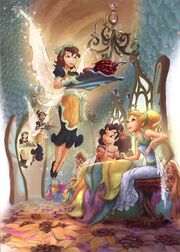 In the books is mentioned to be located in the Home Tree in Pixie Hollow.
According to the books, the walls are papered in pale Never grass and covered in paintings of various objects. The floor is always carpeted in fresh flowers. The tearoom is full of round tables with petal tablecloths in colors such as pastel yellow, pink, and blue. Each talent has their own table, which they usually sit at with other members of their talent guild, though they are allowed to sit at other tables. (Prilla, whose talent is one of a kind, sits at a different table every night. [1])
Food in the tearoom is provided by Dulcie and the other kitchen-talent fairies, whose kitchen is right next door. Meals are served three times a day - for breakfast, lunch, and dinner. Food is left out a while after the meals but is soon cleared by the server-talent and celebration-setup-talent fairies,[2] so fairies need to make sure to get to meals on time. There is usually a menu that lists the options for the current meal before it is served.
Games
In Pixie Hollow (online game): The tearoom was located in Havendish Square beside a tree. It had its own exclusive music and sound effects. Mini-games/events:
| Image | Name | Release | Description |
| --- | --- | --- | --- |
| | Crazy Cakes | July 27th, 2010 | Similar to Uno. Consisted of 2-4 players, players could sit at a table, and could not play until another player joined the table. |
| | Two For Tea | June 21, 2011 | Similar to Memory Match game, yet for two players only. Whoever matched most cards till the end of the game it would win. |
| | Help Brew Tea | 2012 | From the "Garden Tea Party" event, available for a limited period. Players could brew tea if wearing a silver french cap and a yellow teacup. |
Gallery
Notes and references
Community content is available under
CC-BY-SA
unless otherwise noted.