Pixie Hollow Games

Distributed by

Walt Disney Pictures DisneyToon Studios

Directed by

Bradley Raymond

Produced by

Helen Kalafatic

Starring

Mae Whitman

Lucy Liu

Raven-Symoné

Megan Hilty

Angela Bartys

Music by

Joel McNeely

Country

United States

Language

English

Release date

November 19, 2011

Running time

22 minutes
This is the Pixie Hollow Games event. you might be looking for the special Pixie Hollow Games (special) or the play Pixie Hollow Games (play).
The Pixie Hollow Games is a sports event in Pixie Hollow Games. It is either a race or a series of different sports with talent fairies competing against each other.
Description
Each competing guild is represented by two fairies.  They must work as a team, and both must finish an event together to count.
Precisely how fairies are usually chosen to enter the games isn't completely detailed.  Chloe trained and volunteered to represent the garden-talent fairies, and when nobody else volunteered  a name was drawn from a basket to pick another at "random" - in reality, the basket only had Rosetta's name in it, as Rosetta had avoided competing in the game while her guild-mates had suffered humiliating defeats.
The opening ceremonies take place at the
Fairy Coliseum
.  The competitors enter the coliseum and are introduced to the spectators. 
Queen Clarion
arrives to welcome the spectators and wish good luck to the competitors.  Once the opening ceremonies are over, the first game begins.  The games go on for three days, with one event on the first day, four events on the second day, and one event on the last day.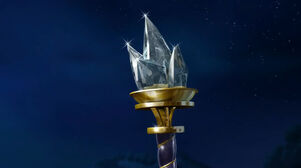 Talents/Teams
Events
Trivia
Similar to the Great Games Day
The Pixie Hollow Games seems to add alot new characters, probably more than the other movies
Community content is available under
CC-BY-SA
unless otherwise noted.