Iris

Gender

Female

Species

Talent

Friends

Notable Books

"I should have stood up for our plant that day when the wasps came...It was wrong when I didn't."
-Iris, to Lily
Iris is a garden-talent fairy, she is also good friends with Lily. Her nose is red at the tip which always makes her look like she has a cold. Her hair is the color of a waxbean. She is the only garden fairy in Pixie Hollow who does not have her own garden any longer (it's been so long, that fairies no longer even remember what it looked like). Instead, she has a plant journal containing everything she knows about plants because even though she is a garden-talent fairy, gardening does not come naturally to her. Because of this, some fairies say she is incomplete, which makes her feel very insecure. As a result, she overcompensates by trying to share her collected knowledge with other fairies whether they want it or not, or sometimes even lying about her accomplishments.[1] Iris believes strongly in myths and bad-luck and good-luck. She is a bit sensitive and emotional, and cries easily.
She is seen as somewhat of a know-it-all, and a bit annoying. It is clear that Lily often tries to avoid her, and that the other garden-talents prefer it when she's too busy to visit their gardens and regale then with plant facts.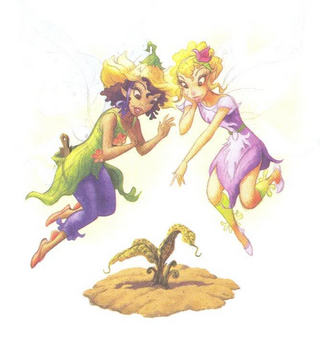 In the books
In Lily's Pesky Plant, she and Lily took care of a plant together. The plant turns out not really pretty to look at, but Iris and Lily loved it anyway. But strange things happen from the plant, like it starts to stink and sticky pink pollen comes off of it. They eventually have to decide what they are going to do with it, all the other fairies are lest than happy about the plant. Iris saved they day when she found out that the plant was a Ever tree, and the last one on Never Land.
She appears in Dulcie's Taste of Magic, after lunch. Then later when Dulcie asked her is she knew about the creeping treacle vine. And again later when Dulcie's comfort cake is unveiled.
During the picnic in Silvermist and the Ladybug Curse, she is shown to be quite superstitious. When a white ladybug landed on Silvermist, she started screaming that she was cursed. Later, she gossips often to the other fairies about the curse.
She is seen briefly in Four Clues for Rani with Quill who might've been her partner for the Fairy Treasure Hunt.
Appearances
References