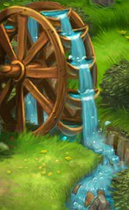 Havendish Stream (also named Wough River)[1] is the stream that flows near the Pixie Dust Mill.
Books
In Silvermist and the Ladybug Curse it says that in the middle of the stream there is a small island, with beautiful scenery, and that the fairies go there often for picnics and games.
In Prilla's Talent, it connects the Home Tree and the Pixie Dust Mill through a longer path. There, raccoons got wood for Beck and a new garden fairy got stuck and was saved by Prilla.
Game
In the Pixie Hollow Online it is near Havendish Square. Downstream from the Pixie Dust Mill, it branches into many different canals where the water fairies are often found. The shiny rocks from the stream is often considered to be unlucky, if a fairy finds it.
References