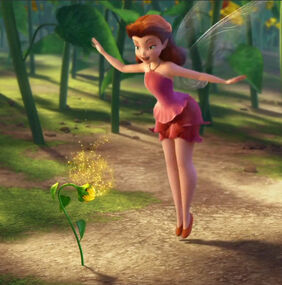 Garden fairies spend most of their time outdoors. Their colorful gardens can be seen in all corners of Pixie Hollow. Garden-talent fairies can sense what a plant needs and have an intuitive understanding of how to care for plants, and with a bit of pixie dust they can make plants grow and blossom in an instant.  Garden fairies occasionally work with animals, too: they sometimes train earthworms and ladybugs to help them, and they are highly respectful of bumblebees. [1]
Appearance & Wardrobe
Garden fairies in the films are shown wearing dresses of pink, salmon, and coral, and they usually have fair skin and brown or reddish hair.  In the books they're also shown wearing green and other floral colors, and some wear skirts while others wear tunics and knee or calf-length trousers.  Their appearances are also far more varied.
Living
Rose-Blossom Chalet
Subtalents
Known Garden-talent fairies
References