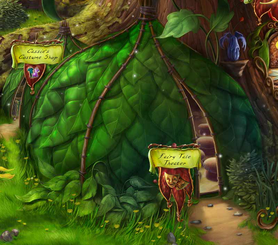 Fairies of talents pertaining to entertainment put on acts and perform shows at the Fairy Tale Theater.
In Tinker Bell and the Lost Treasure, Tinker Bell attends a show at the insistence of Fairy Mary, who is a regular patron. Lyria, a singer/storyteller, tells the story of the Mirror of Incanta, which has the power to grant three wishes (or rather one, since the first two were already used by pirates who had stolen the mirror).
In Pixie Hollow Online, Fairy Tale Theater was opened to all players in 2009. Fairies from any talent may participate, along with special costumes available in Cassie's Costume Shop. Whenever a play is showing, special backdrops, props, and instruments are placed in the theater.
Places in Fairy Tale Theater
Plays
Pixie Hollow Games - November 22, 2011 to December 6, 2011
Cheer Zone - November 10, 2011 to November 21, 2011
Quest for the Purple Gem - re-released September 13, 2011 to November 9, 2011
Sports Camp Plays - July 5, 2011 to September 12, 2011
Mermaid Friends Forever - re-released June 7, 2011 to July 4, 2011
Bad Day to be a Pirate - re-released April 13, 2011 to June 6, 2011
2011 Silly Days & Pixie Hollow Comedy Night - March 29, 2011 to April 12, 2011
Cheese's Great Adventure - re-released February 9, 2011 to March 28, 2011
Case of the Missing Sparkles - re-released December 9, 2010 to February 8, 2011
Fairy Mary's Day Off - re-released October 19, 2010 to December 8, 2010
Bad Day to be a Pirate - August 31, 2010 to October 18, 2010
Campfire Stories - June 21, 2010 to August 30, 2010
Quest for the Purple Gem - April 8, 2010 to June 20, 2010
Case of the Missing Sparkles - February 23, 2010 to April 7, 2010
Cheese's Great Adventure - January 12, 2010 to February 22, 2010
Fairy Mary's Day Off - December 1, 2009 to January 11, 2010
Mermaid Friends Forever - October 15, 2009 to November 30, 2009
Trivia