"Make way for tinkers!"
―Clank
Clank

Arrived

Unknown (movie-verse)
Unknown (book-verse)

Species

Gender

Male

Talent

Relatives

None

Height

Unknown (movie-verse)
Unknown (book-verse)

Hair color

Black

Eye color

Brown

Voice Actor
Clank is a large Tinker-talent sparrowman, and isn't particularly bright, though he is a competent tinker. He's usually found helping Bobble, a fellow tinker and his best pal, with something. Clank has a wonderful personality and is always willing to help others, although sometimes he just makes matters worse.
Early History
WIP
Throughout the Disney Fairies Movie-verse
In Tinker Bell, Clank and Bobble were the first tinker fairies that Tinker Bell met when she first arrived. They introduced her to Pixie Hollow, told her all about changing the seasons, and showed her the house the tinkers had prepared for her in Tinkers' Nook. Later in the day Clank helped carry a wagon containing supplies for delivering spring, as it had not been repaired on time.
Tinker Bell and the Lost Treasure (2009)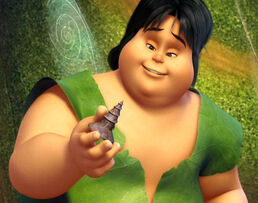 In the second movie
Tinker Bell and the Lost Treasure
, Clank created an invention he called a firework launcher. The launcher shoots light crystals and flowers into the air when the spring is tightened and trigger is thrown. Clank and Bobble were also impressed by the play about the
Mirror of Incanta
performed at
Fairy Tale Theater
.
In the third movie, Tinker Bell and the Great Fairy Rescue, Clank and Bobble made their first appearance in the movie by crash-landing a dove full of supplies into fairy camp. Later in the movie they helped build a ship which they sailed with Tink's other friends to rescue her.
In the fourth movie Pixie Hollow Games, he and Bobble are the announcers for the games. He appeared to be a fan of Rumble and Glimmer, but started supporting Rosetta and Chloe towards the end.
Personality
WIP
Physical Appearance
WIP
Powers and Abilities
WIP
Weaknesses
WIP
Relationships
WIP
Appearances
Films (Disney Fairies's Franchise)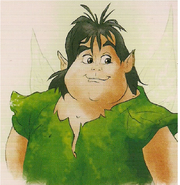 Video Games
Book(s)
Trivia
Galery