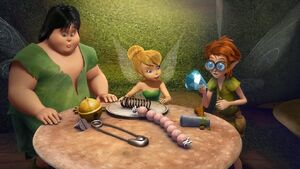 Each fairy has a
Talent
, whether magic or mundane, that they uses to fullfil their function of watching over nature and bring the seasons to the
Mainland
at its proper time. The use of Pixie Dust allows the fairy to perform magic if he/she has a magical talent dealing with forces of nature. The absence of
Pixie Dust
deprives said fairy of his/her magic (if he/she has a magical talent) and the ability to fly.  Fairies can even grown their own
Pixie Dust Tree
, altgouht it requires a regular tree with the infusion of
Blue Pixie Dust
within it. Once done, the now special tree will produce regular golden Pixie Dust as soon the Blue Pixie Dust is dropping inside it.
Despite all fairies being gifted, all fairies with magical talents dealing with forces of nature can visit the Mainland, and the other non-magical fairies stay in Pixie Hollow during all their lives, as their talents are only useful there. However, after the events of Tinker Bell, the Tinker fairies were allowed to go the Mainland with the others.
Pixie Dust Alchemy was created by an incredible gifted and powerful dust-keeper named Zarina, that can change the natural properties of the regular Pixie Dust, giving it another colors and powerful special properties associated with the talents, and can even change the natural talent that a fairy possess if sprinkled on them. When a fairy changes his/her talent, the only way to reverts back to their original is to be sprinkled with the dust related to it.
Sub-talents
There are endless sub-talents descending from one single talent.
Trending pages
All items (140)
A
B
C
D
E
F
G
H
I
K
L
M
N
O
P
R
S
T
W
Community content is available under
CC-BY-SA
unless otherwise noted.