The Arrival Day (also just "Arrival"), is a celebration when a Never Fairy or sparrowman reaches Never Land, being commemorated annually.
Ceremony
First
As the laugh reaches Never land, guided by Fast-flying fairies to the Pixie Dust Tree, the laugh is then transformed into a fairy after receiving their first sprinkle of Pixie Dust by dust-talent fairies.[1]
Most fairies are born knowing their talent announcing along with their with name, yet for some it takes time.[2] To help the fairy discovering their talent, series of mushrooms pop up in a circle, upon which fairies of assorted talent guilds place objects or elements representing their talents. Upon touching those totems, those that do not correspond with the fairy's talent it ceases to glow and drops or dissipate, and the one that correspond glows. This is known as the Talent Choosing Ceremony.[1]
When arriving on their own, the laugh can be heard and rescued by Clapping-talent fairies.[3]
Annual
Similar to Humans' birthdays, a fairy's arrival day can be celebrated every year. At the parties, Baker fairies often make pastries such as cakes and cookies and presents are given by friends. Queen Clarion's Arrival Day is also a special occasion when they bake a unique and singular cake especially for her, while Gelata herself oversees her baking-talent subordinates.[4]
Garment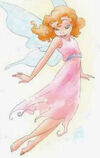 The arrival day's garment is a fragile clothe made from stray bits of laughter left over after the laugh exploded into a fairy.[5] If the laugh got attached to to an object, such as dandelion seed, it may influence the garment.[1]
As a "delicately woven strands of laughter,"[5] fairies consider it as their more precious attire and most rarely use it.
Story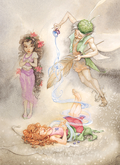 In Fairy Dust and the Quest for the Egg (2005), it showed Prilla's arrival. Terence was the one that sprinkled fairy dust. Prilla was not aware of her talent and could not figure out with others help, until she started "blinking" to Mainland.
In Prilla's Talent graphic novel (2010) (or originally in Disney Fairies Issue 1 - 2005), it showed an unnamed garden fairy's arrival day. She was stuck inside a flower, being found by Prilla, and she discovered her talent on the way to the Home Tree.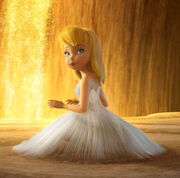 In Tinker Bell (film) (2008), it showed Tinker Bell's arrival day. Vidia was the one that escorted and guided the laugh and Terence was the one that sprinkled pixie dust on it. Tinker Bell needed the talents totems to discover her talent and her name was given by Queen Clarion.
In Secret of the Wings (film) (2012), it showed Periwinkle's Arrival Day. Her laugh, like that of Tink's, came upon a dandelion seed, but it took a different route, crossing over into the Winter Woods. It drifted under the stream of pixie dust flowing from the root of the Pixie Dust Tree that extended into the Winter Woods. As with Tinker Bell, the dandelion seed she blew in on formed her Arrival Garment, showing that winter fairies can arrive wearing flowers and petals of the warm side.
In Pixie Hollow Bake Off (special) (2014), it told briefly about Queen Clarion's arrival, with traditions such as the cake for the celebration.
In The Pirate Fairy (film)'s Vidia's Birthday Surprise (2014), it showed a party in celebration to Vidia's arrival day.
Trivia
In the first movie as Silvermist and Rosetta comment on that they never saw a talent glow that much not even for Vidia, this implies that Vidia's arrival day was later than that of Rosetta and Silvermist.
References